The culinary experience in Santorini is very special due to the amazing setting, atmosphere, and delicious cooking. Furthermore, it is an attractive tourist location and offers a wide variety of eateries where you can taste the finest Greek meals, so today, we will talk about the best restaurants in Santorini.
It is undeniably one of Greece's prettiest locations, with its traditional architecture settled on the towering cliffside that overlooks the volcanic caldera. This unforgettable setting and sights mix well with some fine cuisine, which brings us back to some of the best dining locations on this island. So without further delay, let us get into it and find the best places for you to dine during your next visit to Greece.
1. Metaxi Mas
Metaxi Mas is one of the favorite local restaurants in Santorini. It is a location where you can taste some of the finest Greek dishes, among which the oven-baked asparagus with graviera cheese and tarragon is a phenomenal choice and a must-try meal.
If you prefer seafood and fish, there is a wide variety of specialties. For example, if you love octopus as much as Greeks, it figures prominently in their cuisine, and the one that you can taste in Metaxi Mas is absolutely phenomenal. The staff is very friendly, serviceable, and helpful, so when you decide to visit Santorini, give this restaurant a chance.
2. Geromanolis
Geromanolis is a traditional Santorini restaurant that serves simple yet very delicious Greek food of various types. It is highly popular among locals and located deep inside a charming village Megalochori. The restaurant offers a versatile menu of mouthwatering seafood dishes.
When visiting, you should definitely try grilled octopus and grilled cuttlefish. The restaurant mostly offers grilled and drizzled food with various herbs, spices, and olive oil. All the food served is fresh and delicious, while the staff is friendly and helpful. It is worth mentioning that Geromanolis is a bit harder to find, so it is safest to visit it by car.
3. Kali Kardia
Kali Kardia is a family-run taverna located nearby a lonely road to Akrotiri Lighthouse on the island's remote southwestern tip. The name "Kali Kardia" translates to "good heart," and it perfectly describes the staff and the food you can taste in this fine establishment.
The dishes that you can order in Kali Kardia include tender kouneli kokkinsto, which is a rabbit in tomato sauce and is a delicious specialty. Another dish that is worth tasting is the delicious bowl of moussaka thalassinon, which is similar to traditional moussaka but with seafood.
4. Tranquilo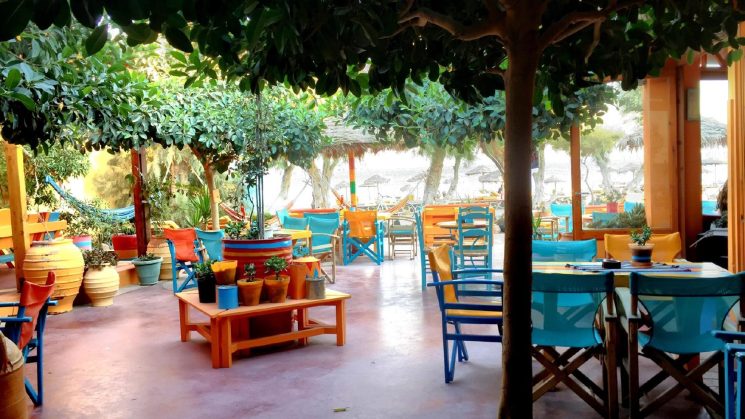 Tranquilo is a beautiful bamboo-fronted beach bar and vegetarian restaurant that overlooks the Perissa beach. The ambiance alone is enough to attract you to this gorgeous establishment, and once you settle, you can enjoy some of the finest mouthwatering dishes.
The restaurant mostly grows its own vegetables, which are key ingredients in huge and delicious salad portions. There is also a wide variety of wraps, veggie burgers, and meze snacks. But delicious food and a beautiful ambiance are not where the whole story ends since you can also enjoy yoga in the restaurant's shala or pleasant music events.
5. Meze Meze
Locally owned by Spiros and Irinikos Pagonis, Meze Meze was converted from their family home into this exceptional restaurant with a dome-ceilinged, cave-like dining room and vine-shaded terrace. The location is beautiful and inviting and offers distant views of a small village Oia.
The menu of the restaurant is inspired by local cuisine, and you can taste a wide range of traditional share plates, including the local favorite – grilled octopus with fava and spicy grilled loukaniko sausage. There are also other delicious entrees on the menu, such as luscious goat cheese with poached figs, eggplant rolls, and local chloro cheese.
6. To Pinakio
Located alongside the sidestreet in Kamari town, this meze taverna with music is one of the best places to go if you want to enjoy affordable and tasty snacks while listening to some traditional local music. The ambiance is enjoyable, and the staff is very friendly.
When visiting this fine establishment, you can enjoy excellent acoustics and meze snacks. Some of the tastiest include tomato fritters, grilled sardines, burgers filled with feta cheese, and various types of grilled meat. Every meal is served with a fiery local appetizer, white spirit raki.
7. 1800
Although there are plenty of restaurants located along Oia's main street, 1800 is the one that really stands out from the crowd, not just for its glorious views but for tasty dishes as well. The restaurant is at captain's mansion, which dates all the way back to 1845, and it is an establishment that won numerous awards for its creativity and interesting spin on Greek cuisine.
When you decide to visit 1800, some of the standout dishes you should taste are lamb chops served with a sweet and sour green apple sauce, and a fresh grouper served on top of Santorinian sun-dried tomatoes and spicy Santorini capers.
8. To Psaraki
This lively tavern overlooks Vlichada's fishing port and offers a very warm and cozy atmosphere and service for all visitors. Given the fact that it is so close to the fishing port, you know that you will get some of the freshest and tastiest seafood on the entire island, and even better, for a modest price.
The menu is very rich and diverse, but some of the standout dishes include whole grilled fish, sea urchin salad, sardines filled with fresh herbs, and pear pudding poached in local Assyrtiko wine. While you are in the area, pay a visit to Santorini Arts Factory and the old tomato-canning plant that has turned into a museum, gallery, and cafe.
9. Selene
This dining establishment was founded back in 1985 by food enthusiasts Giorgos and Evelyn Hatzigiannakis. It is a fine dining restaurant that was originally located in the hilltop town of Pyrgos and now resides in a courtyard of a former monastery in the middle of Fira town.
The restaurant's main chef is Michelin-starred Ettore Botrini, who puts a special aesthetic on traditional dishes such as spinalio and kleftiko. It is an excellent dining establishment for everyone that loves that their food is visually appealing as much as it is delicious.
10. Sea View Restaurant Perivolos
If you are looking for a fancy dinner and a location with a lovely view for a romantic date, then Sea View Restaurant Perivolos might be exactly what you need. This establishment offers complex and diverse fish dishes and huge portions for its guests, that can enjoy beautiful views directly on the beach.
The menu also offers a wide variety of delicious cocktails and authentic Greek dishes with a modern twist to them. The plates are really big, so it is certain that you will not this place hungry and unsatisfied; in fact, you will likely bring a takeout box home with you. The service is impeccable, and the ambiance is truly breathtaking, so whenever you get the chance, pay this restaurant a visit.
11. Lombranos
Lombranos is an affordable restaurant that offers a wide variety of seafood and fish dishes that puts you very close to the Aegean Sea and makes you feel like you are dining right on the water. It serves a number of authentic Greek dishes, from simple salads to octopus tentacles.
You will enjoy large food portions and gorgeous views, which makes this location so unique and ideal for tourists. Although it is a popular restaurant for visitors, it often flies below the radar, so you will not have to deal with large crowds and will be able to reserve a table easily. Since it is located near Old Port, you will conveniently get there after a long day of island adventures.
12. MarinEra
MarinEra is an exceptional choice for everyone that plans for romantic dinner on vacation. It is a very clean space decorated with minimalist tables and furniture, which is a wise choice of design since the real decorations are sunset views, sea, and sailboats.
The restaurant offers small plates, so you will be able to taste all of the local dishes they make. The food is really delicious, and it is prepared with a lot of attention to detail, care, and attention. Numerous customers also claim that the highlight of this restaurant is the stellar cocktails that you can order.
13. Falafeland
In case casual dining is something that you are looking for when visiting beautiful Santorini, then Falafeland is an establishment that you should definitely give a chance. It is a vegetarian and vegan spot where you can grab a quick bite while exploring or eat an easy dinner after a long day.
It does not come as a surprise that falafel is a highlight of this place and a go-to meal you should try. Falafel is made fresh daily with ingredients that are exclusively grown on the island. The overall vibe is very welcoming and cozy and a great spot for picky eaters that can see just how amazing even the simplest Greek food can be.
14. Alisachni Art and Wine Gallery
Alisachni Art and Wine Gallery is an attractive dining location for all wine lovers. It is located in the streets of Santorini, making you feel the local atmosphere to its fullest while tasting delicious wine and food. The great thing about this establishment is that it is actually a traditional Greek home making the whole experience that much more authentic.
The menu is rich in traditional dishes with exquisite wine pairings that will make your meal more enjoyable. There are also some mesmerizing paintings and sculptures in the locale that you can observe while dining. The design of the restaurant perfectly exemplifies the Greek culture, especially their cuisine.
15. Aroma Avlis
Since Santorini is justly famous for its wine, many tourists are expecting to taste some of them during their visits. Aroma Avlis is one of the best places to do so as it belongs to the Karamolegos winery in the village of Exo Gonia.
In this establishment, you can taste a wide range of locally produced wines that will give you a better look at what Santorini is and what it represents. One of the highlights of the menu is grilled saganaki cheese rolled in sesame seeds, served with crusty homemade bread or fillet steaks with fresh vegetables.
Final Words
Whether you are looking for a gorgeous view while you sip your drink or a huge plate of meat after a long and exhausting day of exploration, Santorini has it all. It is a location that features over 2.000 restaurants, so picking the best ones is really tough endeavor.
However, whenever you find yourself on vacation in Santorini, visit some of the places we listed, and we guarantee you will enjoy them to your heart's content.